Snoops and Kommando Kitty here. Are you a freezing feline? A shivering Siamese? A chilly callie? If so, you've come to the right place. This winter has already been brutal, and it's not even half over. Our special guest today is Trixie Tuxedo, who owns Trixie's Terrific Travel. She specializes in cruises and tropical vacations for the discerning cat. Thank you for joining us Trixie. Why don't you show us the recommendations you have brought for our followers?
Hi everyone! I'm so happy to be here. I've got a lot of great ideas for the perfect mid-winter vacation. As cats, we all love the sun don't we? And you won't find better sun this time of year than on a tropical beach.
You need to decide what type of trip you want to take. Your first option is a cruise. Cruises are exciting adventures for many:
but also offer opportunities to relax:
We offer cruises to the Caribbean and Mexico. The advantage to a cruise is that you don't have to get off the ship at all until the end of the trip if you don't want to. You can visit the sites if you'd like, but be sure to get back in time for departure. We had one poor kitty who had to stay at Customs for several days after missing a ship.
A significant disadvantage for many cats is that cruise ships are full of humans.The humans are not checked for cat-compatibility which has caused some stress in the past. Although it was the humans who complained, not the cats.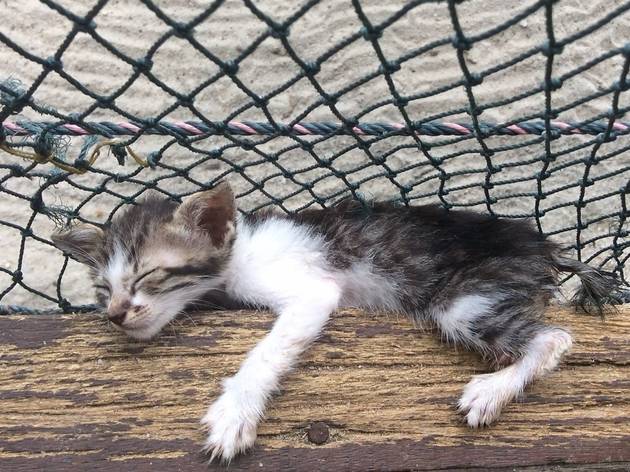 Some cats prefer to relax in one spot for the entire time. We offer 4-day, 7-day, and 14-day packages to a variety of locations. Some of our more popular destinations are Aruba, the Virgin Islands, and Key West. Are you looking for a romantic getaway? We can find you the perfect place.
More of the outgoing type? We have something for you as well:
Regardless of what type of trip you are taking, remember to protect yourself from overexposure to the sun. There's nothing worse than coming home from vacation with burnt ears.
Does all of this sound like a budget-buster for you? I understand that sometimes we just can't afford to get away no matter how purr-fect it would be. Unlike other travel advisers, I won't try to tell you that you can afford it. You won't be happy if you're worried about money.
Instead, how about a weekend trip to a local bed and breakfast to spend some quality time in front of a nice warm fire?
The most important part is that you get away from your regular routine and relax. Stretching out in the sun is a cat's right. Don't let the winter weather get in the way. Visit my website trixiestrips@cat.cat and we'll get started today.