We got a very unusual call recently. It was from a human. We almost never hear from humans; most of them assume we are a foreign-language publication. A very nice lady said that some neighborhood cats were very sick. The veterinarian said that it was probably just a virus.
The lady and her friends think it is a new food that they got for their furry friends. It's supposed to have a special additive that would improve their immune systems. It's called "Cat Power". She wanted to know if there was a way for us to check it out. Our editor George said we would see what we could find out.
We put one of our best reporters, Penelope Porcine, on the case. She discovered that "Cat Power" is sent out by a large distributor in the U.S. There was no information about who actually made the food. She decided to talk to the distributor. The closest distribution center is in the middle of the state.
Penelope drove up to Livingston and found the plant. She called, but only got a recording. She tried to see someone in person (so to speak). There was only one entrance, and it was guarded by a very large German Shepherd. The German Shepherd refused to talk to her. He said he couldn't speak pig.
Penelope decided that we needed to find a German Shepherd of our own to help. Not having one on staff, we thought it would be best to recruit one locally. It was a small town; they might even know the guard.
We posted a notice: "Looking for a German Shepherd. Temporary assignment. Must be fluent in several animal languages. The position requires persistence and a persuasive personality. Compensation will be discussed if you are called for an interview."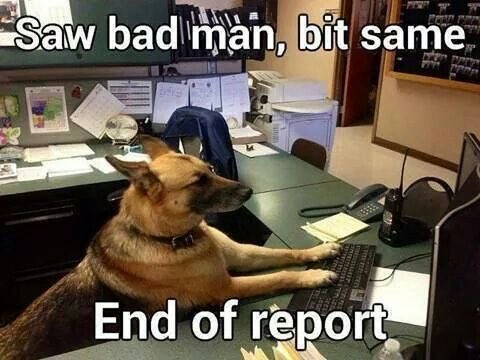 Apparently there is a shortage of positions for German Shepherds in Livingston. We immediately received more than 20 responses. Some of them we could delete right away:
"Speak several dialects: Pekinese, Beagle, and Chow. Have trouble communicating with other species. Once I misunderstood a mynah bird and ate him."
"Experience speaking with other animals. Would prefer it not be any animals that I might consider as toys. Especially cats or squirrels."
"I am qualified for your position. Compensation must include both kibble and meats of my choosing."
We interviewed three candidates. We hired a wonderful dog named Lexi. She has a gentle disposition but is a very determined manner. Lexi speaks flawless pig, cat, mouse and hedgehog as well as a variety of dog dialects.
Penelope explained the situation to Lexi, telling her that we needed to find out where the food came from. Lexi was appalled and thought that humans had to be involved. She promised to call Penelope the next day after she had spoken with the guard.
The next day Lexi said that she needed to meet with Penelope in person to tell her what the guard had said. Penelope wondered what could be so important that it couldn't be told over the phone.
When she arrived at the restaurant, Penelope discovered that Lexi had two other German Shepherds with her. She hoped they were friendly. Three large dogs were a little intimidating.
The dogs patrolled inside the plant. The place was full of humans, but none of them had anything to do with making the food. The cans came in huge crates that the humans opened and put on conveyor belts. At the end of the belts were trucks that delivered the "Cat Power" and other foods to the stores.
Penelope asked if they had any idea where the food came from. One of the dogs, Brutus, said that the crates were written in Shar-Pei. Brutus said that he hoped Shar-Pei's were only clerks and not actually involved in poisoning anyone.
Penelope thanked Brutus and his friend. She bought dinner in appreciation. They said they had never met such a nice pig. Or any pig, for that matter.
Later Lexi told Penelope that she had done further research on Shar-Pei's and discovered that they specialize as guard dogs in Guangzhou, in southern China. She had also learned that there were two factories that made cat food in Guangzhou, both of them owned by the same company.
To be continued