It was Christmas Eve, and Mama Cat was totally exhausted. Her reputation as an herbalist and healer was spreading and she building a good practice. But all that work had put her behind in her Christmas preparations. She had just finished the baking and wrapping. But the house was a total mess.
She was startled by a loud knocking at the door. She hoped it wasn't that lousy Tom. She should have known he had two other kitten mamas. Mama Cat opened the door.
It was a very large badger. Mama Cat almost fainted with fear. He asked if he could come in. She nodded and pointed to a seat.
"Are you here to eat me?" She was terrified.
The badger looked hurt. "Of course not. I am asking for your help."
Mama Cat looked confused. "What could I possibly do for you?"
The badger looked at her hopefully. "My name is Reginald Badger, and I live in the forest. My son was playing with some friends and it got a little rough. He was clawed rather badly. My wife says that you can heal animals and was hoping that you would help our son."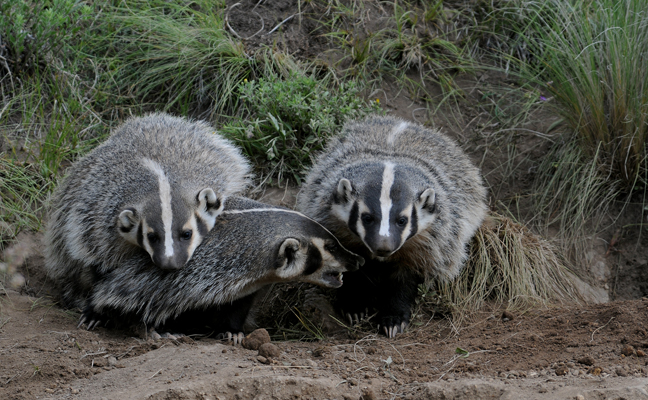 Mama Cat looked around the house. "But it's Christmas Eve, and I have five kittens in the other room who are waiting for Santa Claws." Reginald looked crestfallen and nodded. "I told Margery that you probably couldn't make it. I apologize for intruding." He got up to leave.
Mama Cat looked at his sad face and then around the room. How long could it possibly take? And how could she let that little badger die? "I think there is time to help your son before the kittens wake up. Let me get my things."
As she gathered her things, she hoped that she wasn't volunteering to be Christmas dinner for a family of badgers. Reginald took her bag and offered a ride on his back. Mama Cat was feeling worse and worse about her decision.
As Reginald ran through the trees for what felt like an extremely long time, Mama Cat began to worry about getting home in time to finish getting things ready for the kittens. "I wonder if Santa Claws will leave presents at a house that doesn't offer him a bowl of cream?"
Finally Reginald stopped. Mama Cat climbed down as he opened the door. She swallowed nervously and followed him in.
Suddenly Mama Cat was being hugged. "Oh thank you Ms. Cat for coming all the way out here on Christmas Eve! I'm Margery Badger, and we are so grateful that you are here. I know that you can help Eugene. Let me show you the way." Mama Cat was a little overwhelmed. "Please call me Belle. I hope I can help." She followed Margery into another room.
There was a much smaller badger laying on the bed. He was asleep but was moaning in pain. Belle looked at the wound. "It is rather nasty isn't it? Let me see what I can do. Would you please bring some warm water so I can clean it out?"
Margery quickly returned with the water. "Now would you please boil some water and let these herbs soak in the water for 10 minutes?" Belle carefully cleaned the wound and got a better look at it. It was deep, but didn't seem to have caused much damage.
She took some spider webbing and put it in the wound to stop the bleeding. When Margery returned, Belle poured the hot liquid into a cloth and applied it to the wound. "You will need to re-apply the poultice every six hours for two days. Belle handed Margery a second herb. "Make a spoonful of this into tea several times a day. It smells and tastes horrible, but it will help with the healing."
Both of the badgers hugged Belle and asked how they could repay her. Overcome with fatigue again, she said that a ride home would be nice.
When she opened the door to her house, Belle was amazed. It was spotless. There were gifts from Santa Claws for the kittens and a note on the table.
"Dear Belle – Since you were away helping the badgers, I decided that the best gift for you would be to have an elf clean your house. Have a Merry Christmas and a Happy New Year! All the best – Santa Claws."
Belle thought she must be dreaming and curled up with the kittens.