As part of our series on unique animals this year, we have decided to interview a Tasmanian Devil. Like the rest of our interviews in the series, it presented some unique issues. First of all, Tasmanian Devils eat pretty much anything they come across. They are nocturnal. And they have a reputation for being rather grumpy, to say the least.
It turns out that Tasmanian Devils are rather small, so are only able to eat young kangaroos. We found an adult kangaroo (Geoffrey) willing take on the task. However, we also found a human who would accompany him with a tranquilizer gun, just in case. We really can't afford to have a reputation for letting our correspondents get eaten.
Geoffrey: Thank you for agreeing to meet with us today. I'm a little surprised we're doing this during the day. I was under the impression that Devils were nocturnal.
Tasmanian Devil: We are. (looking at the human.) His type like to kill us. We have a problem with eagles as well. So we generally sleep during the day. But we also love to sunbathe; it feels so good on the fur.
Geoffrey: It says here that your name is Ian.
Tasmanian Devil: Actually it's Sir Ian Tasmanian Devil. But you are welcome to shorten it to Sir Ian.
Geoffrey (surprised): You've been knighted by the Queen? That's very impressive.
Sir Ian: That's a stupid question. I've never met the queen. I just like the name.
(Geoffrey and the human look at each other. Apparently the report of Devils being difficult is not a myth.)
Geoffrey: Sir Ian, could you tell us a little bit about your community?
Sir Ian: There are about fifteen of us, not counting women and children.
Geoffrey (surprised): Why don't you count the women and children?
Sir Ian: Another stupid question.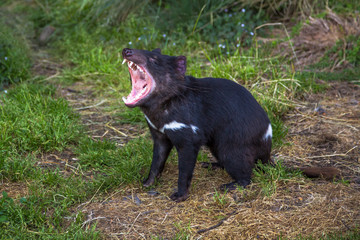 (Sir Ian doesn't go further, so Geoffrey decides to move on.)
Geoffrey: What do devils like to eat?
Sir Ian: We Devils are great hunters. Very strong. We can take down prey several times our own size.
Geoffrey: I've heard that you also eat things that are already dead. Is that true?
Sir Ian (irritated): Well, of course we do. Who wants all those smelly carcasses lying around?
Geoffrey: Well that does explain your rather unique scent.
Sir Ian: Are you trying to say that I stink? That's very rude. I don't need to put up with that.
(Sir Ian turns to walk away. Geoffrey debates whether to let him go, but decides against it.)
Geoffrey: I apologize Sir Ian. I didn't mean to be offensive.
Sir Ian: Well, watch your words in the future.
Geoffrey: What do you like to do in your spare time?
Sir Ian: Of course, eating and foraging are great fun. Last week, I dug up a sheep. I'm not sure how old it was, but it was definitely ripe for eating. Totally delish. And young Devils are tender as long as they're not too old.
(Geoffrey tries to hide his disgust. Luckily Sir Ian is still excited about his meal.)
Geoffrey: So what are your other interests?
Sir Ian: I love to swim. And of course, spend time with the ladies.
Geoffrey: So you're not married?
Sir Ian: You are full of stupid questions. Of course not. I like to spread my talents around. There are many good-looking women around. I don't like to brag, but I am very much in demand.
(Geoffrey looks at the human. The human is trying not to laugh.)
Geoffrey: Why is that, Sir Ian?
Sir Ian (offended): Just look at me. Aren't I one of the finest specimens of Devil manhood that you have ever seen? Look at the size of my body. And how muscular I am.
Geoffrey: That is true. I guess I really hadn't looked that closely.
Sir Ian: And you call yourself a journalist? You need to spend more time paying attention to me.
(Geoffrey doesn't tell Sir Ian that he is repelled by the aroma and can't get closer for fear of vomiting.)
Geoffrey: Do you have any children?
Sir Ian (proudly): I have more children than any male around. As I said, I am very popular. And that doesn't include the ones who have been eaten or died competing for food; it's only the ones who are still part of the group.
Geoffrey (relieved): Well I think that wraps it up from my end. Is there anything you would like to add?
Sir Ian: I hope that your readership will realize that there is more to us Devils than what that stupid Taz* shows. We are a noble species who deserve a better reputation.
Geoffrey: I will do my best. Thank you for your time.
(Both Geoffrey and Sir Ian walk quickly away. Neither of them can believe he spent so much time with such an idiot.)
*Taz is a Looney Tunes cartoon character with a terrible temper who spends most of his time chasing Bugs Bunny looking for a meal.
All pictures are courtesy of Google Images