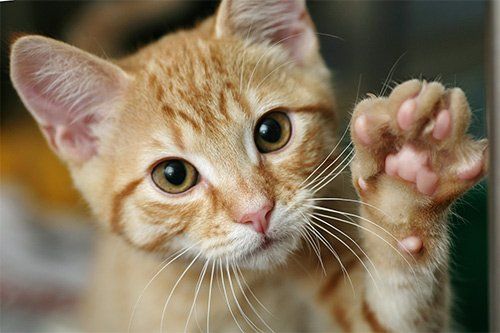 Every once in a while, we like to try to educate our human readers. Today we are sharing some fun facts about our paws. We use them for walking, running, jumping, self-defense, and hunting. We have five toes on the front paws and four on the the back paws. (The extra toe in front functions as a sort of gripper or "thumb.") They're the most sensitive part of our bodies, but also the strongest.
Our paws may not be able to open tuna cans, but they are truly amazing. Check out all the things we can do with our furry little feet: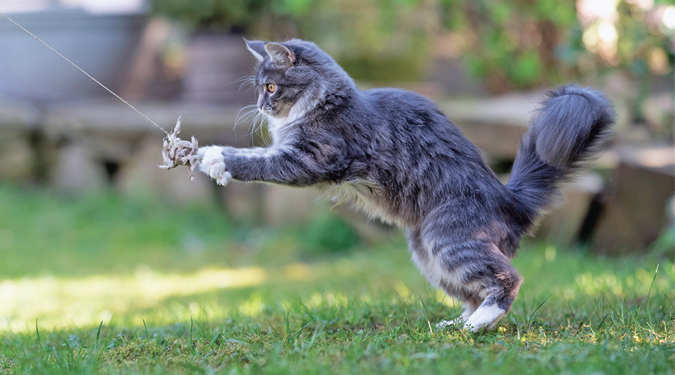 Feel Sensations from the Ground
We have a huge number of nerve receptors in our paws. (Tickle them at your own peril!) These nerve receptors help us with our incredible balance. They also help us feel the ground for vibrations and gravity. Excellent aids for tracking prey. We use our paws to test temperature and the safety of a surface.
Walk on our Toes
We are never caught flat-footed because we always walk on our toes. (That's called digitigrade.) It keeps us extra-quiet when we move and lets us move faster when we choose. Very useful when pouncing and hunting.
Dominant Front Paw
Know how you humans are usually left-handed or right-handed? Same for us. Almost all cats are either left-pawed or right-pawed. (Some studies show that males are right-pawed, while females are left-pawed.)
Built-In Shock Absorbers
Our paws are what let us land safely from high jumps. They also help us walk on rocks, weeds, and other rough stuff. They help us walk quietly so we can sneak up on prey (and humans). We don't like to use them too roughly though, because of all of those nerve endings.
Built-In Climate Control
We prefer to stay cool. But if we get out in the heat or are stressed, we can sweat through our paws. If you notice a trail of sweaty paw prints, please help us cool/calm down.
Communication Tools
We have scent glands between our paw pads that are activated when we scratch things. That way, we can let other kitties (and lesser creatures) know that we have been there. We also have scent glands on the pads of our rear paws that help spread the word.
Pawlm Reading (see more at https://kakato.com/blogs/learn-read-cats-paw-one-minute/)
Some humans believe that our paws tell a lot about our personalities. The markings and shape of the paw tell about our character. The dewclaw is the lifeline, the first digital pad on the right is luck, the second pad is intelligence, the third pad is love, and the fourth is appetite.
Matching Pads and Fur
Our pads usually parallel our fur coats. For example, tuxies usually have black spots on their paw pads and light-colored cats usually have light-colored paw pads.
Paws are Super Flexible
Our paws bend and turn on our "wrists." Our front paws can turn inward to help us sink our claws into whatever we are climbing. (Unfortunately, it doesn't work in reverse if we climb too high to jump down.) This flexibility also helps make us so well-balanced.
Humans can help us maintain our paws by checking them out once a week. Gunk can get trapped between our toes (especially if we're long-haired), and cause irritation. We can also be allergic to things we walk through. Pads that are swollen, soft, bleeding, ulcerated, or scaly are all potential problems.
However, if there isn't a problem, leave our feet alone!
Pictures courtesy of Google Images.