Every two years Zeke, Anthony, Joe, and Benjamin got together for a week-long camping trip at the lake. One of the highlights of the trip was story-time around the bonfire. Each bear would tell a story about something that had happened to them during the previous two years, based on a given topic. This year's topic is "Chance Encounter With Another Species". It was Zeke's turn to go first.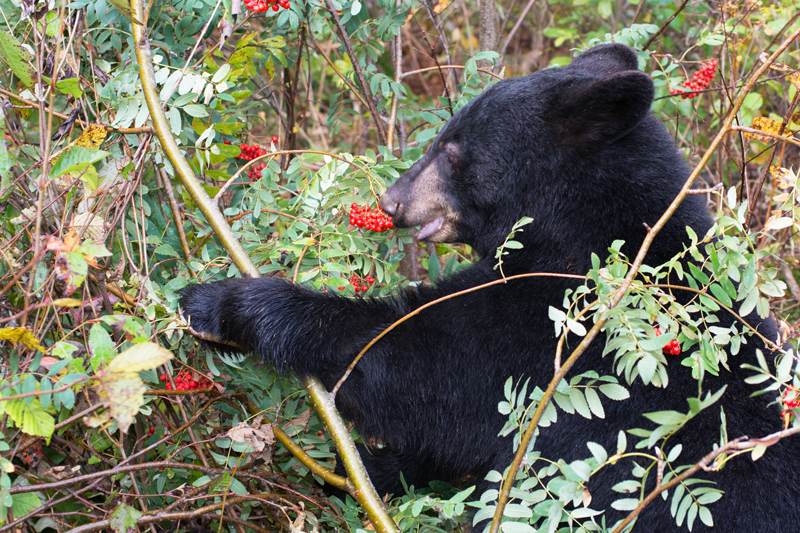 My encounter was only a few weeks ago. I was wandering around, looking for berries. I heard a small rustling in one of the bushes. Whatever it was, it had to be small. I couldn't figure out what kind of little animal wouldn't be afraid of a bear, especially a full-size size male. Whatever it was, there were berries on the bush and I didn't want to share them with whatever it was.
So I pushed the bush out of the way. I couldn't believe what was down there. It was a tiny kitten! How would a kitten get there? It was terrified. I didn't want to scare it anymore, so I sat down. After a while, she stopped shaking and came over to sniff me. I didn't know what to do. She looked up at me and meowed.
She was so cute. I  reached out a paw and patted her. That was all it took. She started to purr. She climbed into my paw. I put her on my lap. She fell asleep almost immediately. She must have felt safe.
What should I do? I didn't know anything about kittens. Where was her family? I couldn't leave her in the woods, but where would she go?
I guess I shouldn't have worried. When she woke up, she climbed up onto my shoulder. I couldn't reach her, so I went home. I figured she would go back to her home from there. She climbed down in the den and started to look around. She had no intention of leaving.
I had no idea what to do. I went to Cheri, a lady raccoon I know. She looked a little bit like a cat, so I thought she might know. Cheri said it wasn't safe to make the kitten leave. She told me that she would find some milk to feed the kitten.
To make a long story short, Kitty decided to adopt me. She follows me everywhere. I think she might think she's a bear. I taught her how I get insects. Somehow, she learned how to hunt, so she's eating well. We go to the river together to drink.
She sleeps with me. That took a little getting used to. I was afraid I'd roll over and crush her. She decided that sleeping on me is safest. I think she feels safe with me. I've gotten used to having her around and would miss her if she left.
Joe: Where is Kitty now?
Zeke (embarrassed): I brought a blanket for her to sleep in while I'm with you guys.
Benjamin: She's here? When do we get to meet her?
Zeke: I didn't know if you'd want to. I'll bring her to breakfast. She'll feel better staying with me.
Next week: Anthony's story.
Pictures courtesy of Google Imag