We were reading about the origins of April Fool's Day, and a lot of the articles say that everything started in France, way back in 1564. King Charles IX decided that he wanted to standardize when the French celebrated the New Year. Up until that point, they celebrated in the spring, but they didn't have a set date. People would celebrate by giving each other small gifts, and a lot of the time the gift was fish.
King Charles decided to move New Year's to January (like everyone else). However, communication wasn't great in those days, so it took a while for people to realize that April was no longer the beginning of the year. As a joke, people would would pin small fish on the backs of other folks who didn't realize that April wasn't New Year's anymore. Apparently some of those people weren't very aware and wore the fish until they started to smell. (Humans must have smelled even worse back then than they do now.) Some kids in France still tape paper fish to people's backs on April 1.
The whole thing got us thinking. We wondered if there were other holidays where it should be mandatory that we get to eat fish. So we set the staff to work looking for holidays that celebrate fish. It turns out that people in the US will celebrate almost anything. There were more opportunities to celebrate with seafood than we had imagined.
Mollusks –  We don't really have much experience eating oysters, but there are two options if you like them: January 10 is National Oysters Rockefeller Day and August 5 is National Oyster Day. Are clams more your style? You can enjoy clams on the half shell on March 21. Scallops should be on the menu March 12 (National Baked Scallops Day) and October 2 (National Fried Scallops Day).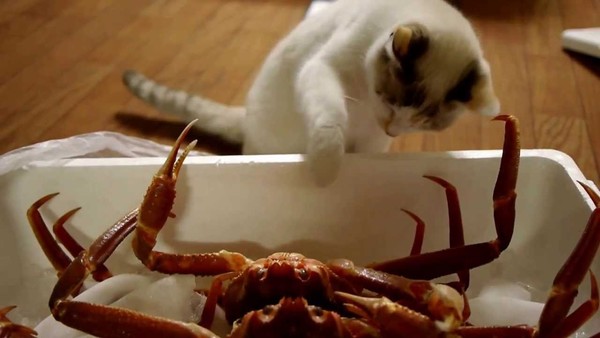 Crustaceans – You can enjoy Lobster Thermidor on January 24, Lobster Newburg on March 25, or any kind of lobster on National Lobster Day, September 25. If crab is more to your liking, you can feast on National Crab-Stuffed Flounder Day (February 18) and National Crab Meat Day (March 9). Are you a shrimp lover? Then you'll be in kitty nirvana on May 10 (National Shrimp Day) and December 21 (National French Fried Shrimp Day).
Fish – If you're like us, you prefer regular fish to shellfish. The special days for fish are January 25 (National Fish Tacos Day), May 2 (World Tuna Day), and December 14 (National Bouillabaise Day). Tuna Day is our favorite.
We are saving the best for last. Italian-American humans celebrate something called the Feast of the Seven Fishes on December 24. Fish was/is very popular in most of Italy. Religious customs and economic circumstances led to fish being served on Christmas Eve. When the people immigrated to the US, they brought the customs here. It has turned into a huge feast with many fish dishes being served at the same meal. Kitty heaven! Even if your humans aren't from Italy, maybe you can convince them to make a fish feast over the holidays.
We encourage you to put all of these dates on your human's calendar so you can enjoy them in style.
Pictures courtesy of Google Images.