We follow several blogs that have pictures of beautiful kitties. The titles on the posts are kind of weird. Like, it will say "Fluffy Kitty" and show a Sphinx, or it will say "Black Cat" and show a striped orange kitty.
We started thinking about the names that cats actually have and decided to look up the most popular names. Then we discussed what we thought a cat with that name would look like. Our descriptions are not intended to portray anything negative about our perfect species. It is merely intended to give humans some guidance on what type of name fits what type of cat.
Here are the top 10 kitty names in the U.S:
Luna – We think this name belongs with an elegant cat. One who shows her superiority innately; she never needs to meow about it.
Bella – Another beautiful cat. She attracts beautiful cats around her.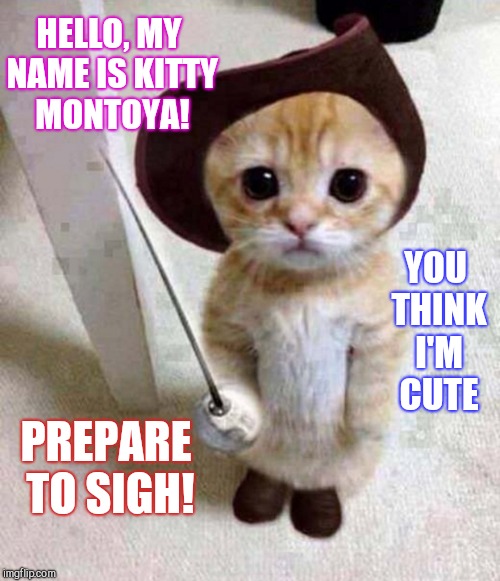 Kitty – What can we say? There are really that many humans who can't think of anything better when they name their fur babies?
Oliver – He is well-mannered and would never think of not sharing his prey with his hunting-deficient humans. He doesn't want them to starve
Lucy – A fun, outgoing kitty. She likes to be with other cats and is playful with them and her humans.
Leo – Obviously, the king of all he surveys. He has a mane and a beautiful coat. He knows he's superior and all humans are his minions.
Charlie – The male counterpart to Lucy. He's good-natured and hard to rile. A cat who's fun to be around.
Shadow – A dark-coated cat who slinks around. They can sneak up on their human out of nowhere and scare them silly. Exception: A small kitten who won't ever leave her human's side. These cats grow up to be excellent protection for their human from fish and chickens.
Simba – He's a king, but with a playful side. He can charm his human so well that they're his minion before they know it.
Milo – An intellectual cat. He will outsmart his human every time. But he's lovable so they laugh about it.
Hopefully, you will show this information to your human for future reference.
Pictures courtesy of Google Images.