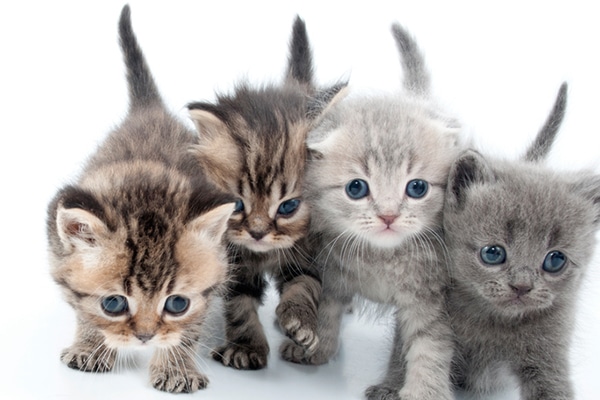 The last time Mama Kitty had been sick in bed, she got up to a complete mess. There were dishes everywhere, food on the counter, toys all over the front room, and mud on all the floors. She just wanted to go back to bed.
After she had cleaned everything up, Mama Kitty held a family meeting. She said that she understood that the kittens were little, but that if she was sick, everyone had to do something to help out. The kittens nodded solemnly.
Not long after, Mama Kitty caught a bad cold and had to stay in bed. Remembering what she said, the kittens got together to talk.
Muffin: Remember what Mama said? We all have to help. I'm going to make her some catnip tea.
Thomas: That's a good idea. You can be in charge of cooking too. I'll be in charge of muddy footprints.
Princess: I'll put away toys.
Bubba: And I'll eat all the leftover food.
The kittens agreed it was a good plan.
Muffin didn't know how much catnip to put in the tea, so she guessed. When she was finished, she took it to Mama.
Muffin: Mama, I made you some catnip tea. I thought it would make you feel better.
Mama: That's sweet, honey.
She took the cup, and sipped it. She started coughing.
Mama: Sweetie, how much catnip did you put in the tea?
Muffin: I wasn't sure how much to use, so I filled the teapot halfway.
Mama (trying not to choke): That's a little too much. Next time, a teaspoon will do. But I love this.
She took a long drink and emptied the cup, hoping Muffin wouldn't offer any more.
Mama: Thank you so much. I think I need to sleep now.
Muffin happily left the room with the empty cup.
Mama slept all afternoon, trying to ignore the banging and bumping in the next room. She politely refused the tuna that Muffin brought in later.
Mama stayed in bed for two days and got up the third morning feeling much better after all that sleep.
When she went into the front room, Mama was surprised. It looked a lot cleaner than she had expected. The floor was clean. No toys and no mud.
Mama: You kittens did a wonderful job of keeping the house clean.
Princess: Thank you, Mama. I didn't realize we had so many toys. I filled up the toyboxes and had to put the rest in that chest over there.
Mama looked to see her china cabinet overflowing with stuffed mice and bags of catnip. At least they were soft toys.
Mama: Thank you for keeping the front room so clean. I don't have to worry about tripping on anything.
Thomas: Come into the kitchen and see what I did to keep the mud out.
Mama hesitated. Was she ready to see that mess? But Thomas was waiting, so she followed.
Thomas: See? I put down towels at the door so we could wipe our feet.
Mama looked down at her best linen towels covered in mud. But there was no mud anywhere else in the house.
Mama: Thomas, that's a wonderful idea! Thank you.
Mama looked around. The kitchen was fairly clean. There were dishes in the sink, but the counters were clean.
Mama: The kitchen looks good. I'm proud of you.
Bubba: Thank you, Mama. I ate all the extra food, so it wouldn't sit out.
Mama looked at Bubba. Despite his name, he was not a large kitten.
Mama: How did you do that, sweetheart? You usually can't even finish your own food.
Bubba: I didn't realize how much food it would be. I took some to share with my friends. We had a party.
Mama Kitty started to laugh. She hadn't realized how resourceful her kittens were.
Mama: I'm so proud of all of you. You took care of the house for two days and it looks wonderful.
Then they all curled up in front of the fire and cuddled.