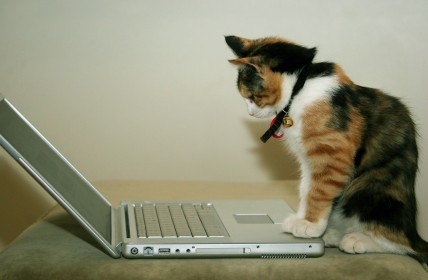 Cat: The editorial board (George and Lenny) and Snoops and Kommando allowed me to write this post myself.
I've been ambivalent about these awards for a while. I think they're an awesome way for people to tell other bloggers how much they like their work.
On the other hand, I am one of the most disorganized people you have ever met. The first time someone nominated me, I thought that was the end of the process. The second time, the person included instructions but I didn't know enough bloggers to fill out that part of the award.
The third time I was nominated, I thought it was a cool award so I remembered to complete it. But then I had no idea how to make it appear on my blog. I tried the forums, but got a response along the lines of "WordPress does not create or distribute these awards."
The fourth and fifth times, I had every intention of completing the nominations, but they got buried in my inbox. (You may have noticed that I am often up to a month behind reading your posts.) By the time I came upon them again, I was embarrassed to follow-up.
Which brings us to today. I have been nominated for the Versatile Blogger by two bloggers, Purrseidon and The Planet According to Dom  within a couple of weeks of each other. It was also in the time range of reading a post from the tennis-loving cat Frazier at Frazier's Racket which talked about how nice it was to be recognized by a fellow blogger. I'm sure it's a sign. (Although the animals want to make sure everyone knows they do all the work.)
Step 1: Say who nominated you. See above.
Step 2: List 7 interesting facts about yourself. (Who's defining interesting?)
The editors are named after characters in Of Mice and Men.
I talk to everything as if it understood me (surprise!) but only have ongoing conversations with animals. Mainly cats.
I am afraid of birds.
I broke a bone in my foot stepping off a curb in Manistee.
My son almost drown in Lake Michigan when he was caught in a riptide.
I can draw landscape fairly well.
I have a Master's Degree in Russian Studies. (Nope. Never used it professionally)
Step 3: Nominate 15 blogs to receive this award.
Note: I did not check your blogs to see if you are award free. 
Step 4: Notify the recipients that you have nominated them. No mention of hand-written notes. Blog comment it is.
Step 5: Someone please tell me how to get the picture on my blog
Word from the editors: We'll be back in a couple of days with something more interesting. Involving animals.