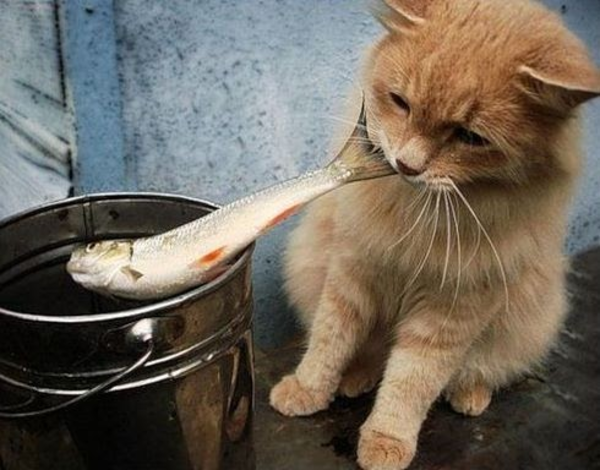 Greetings. Snoops and Kommando Kitty here. Today we're talking to some of our newest friends in blog-land, Da Tabbies O Trout Towne. We met the Da Tabbies earlier this year. They are a lot of fun, and we recommend that you go over and read about some of their adventures.
They are a little isolated over in Trout Towne and have developed a dialect of cat that is different than any we knew before (although it is similar to some surfer-cat dialects and Cajun cats). They have a unique way of looking at things, and we like them a lot. Dude K Mayor provided the answers below.
Who lives in Trout Towne? 
current lee it be tuna of moon, mackerull boomer junior butter feeld, & dai$y queen of the run on sentence manee moonz ago dude K, sauce of fishbone, butter lover boomer o cat, and the perkolator lived heer but they bee livin large & in charge in heaven now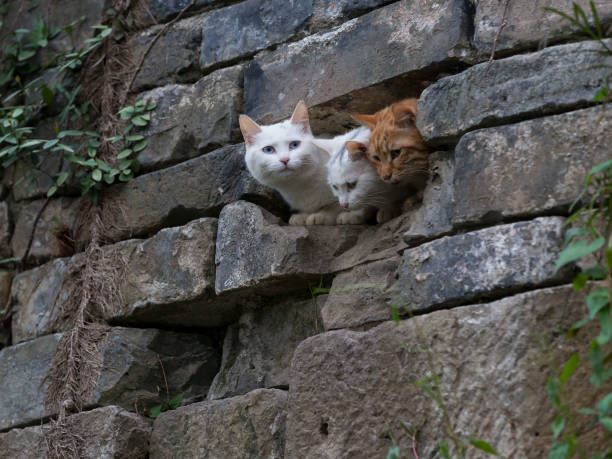 What makes Trout Towne special? 
noe one noez wear itz at…inn cloodin uz
(1)
You all seem to hate birds. Is there a reason? 
ewe betcha, we gotta lot oh reezonz, two manee ree lee, but one important one iz they iz all wayz steelin R fishin werms
How do you get to be mayor? 
well, gram paw dude waz named mayor afturr an electshunz… that had onlee one voter; hiz self
(2)
What do you like to do? 
sleep, chillax, eat, watch nayborz, sass chippeez & BURDS, cauz trubull, aggravatez de food servizz gurl bee coz we can, sneek online N vizit pals,  ore shop with de food gurlz card….then ree peet
(3)
Do you all get along well? 
yez & noe; dai$y iz act shoo a lee a cuzin,  N livez with de food servizz gurlz mom sew we due knot see her like in reel life, mackerull & me; tuna…. haza…. "ewe on R my last nerve kinda life" ….but mackerullz onlee 1 and me tuna, eye am 12 and reddy ta ree tire
(4)
Do you have to love fish to live in Trout Towne? 
knot reel lee… but it doez help if ewe like nite time better than day time;  coz in day time we sleep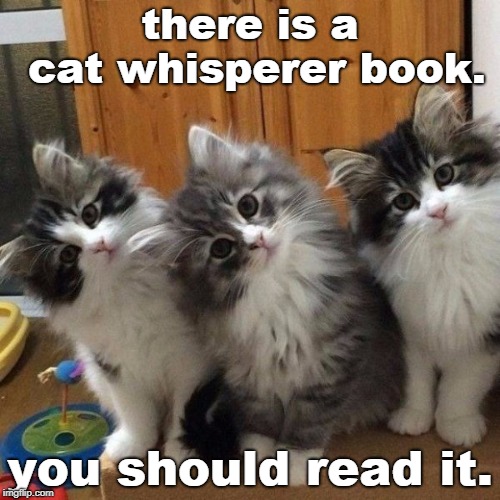 Are humans allowed? 
if they bee bringin canned goodz, kibble, ore fishin wermz….sure 😉
 Are you cuddlers or loners? 
this questshunz hard ta answer coz all oh uz iz both;  but knot at de same time; ore de same day; N sum timez knot even de same yeer
 Is there anything else you'd like to tell us?
sure. stop bye anytime, we all wayz haz hammicks out, foodz on de grill, anda force feeld we can tern on pron toe, if we see burd…incoming.  manee thanx two ewe snoops and kommando for lettin uz chill with ewe both two day…thiz waz fun !!
The real tabbies o Trout Towne are the pictures with numbers. All other pictures are courtesy of Google Images